ABOUT JSA EUROPE STAGE COMPANY
JSA Europe is the direct the company exists as JSA Europe since April 2007 (legal status since 2003).
Successor of JSA Stage Company which was founded by Alexander Strizhak in 1996 in Moscow. That was the first professional stage company in Russia and had a great influence on the development of staging/production industry in Russia, Ukraine, Baltic States as well as in Europe.
In May 2017, JSA Europe had a restart professional activities after a break due to a lengthy reorganization of the parent company and closed business in the Russian Federation.
The main activities of the company are provision of professional services in staging and production managing of live music concerts, festivals and events.
This is a full range of services – from the development of drawings, binding to the terrain, logistics of production of technical works, checking possibilities of communications, work with contractors for sound, light, video, scenery, pyrotechnics, electric generators, etc., before installing scenes, auxiliary structures , awnings, stands, fencing systems and other infrastructure facilities.
The quality of the service will be based on the previous 20 years experience of the company, the skills of the experienced staff and the energy of young employees.
The young generation of stagers must to withstand professional trainings in the relevant specialties as well in work with modern equipment and structures of the leading European manufacturers in this sector of the industry.
JSA Europe has completed a new warehouse of stage constructions in Riga, Latvia. Management has the ability to provide services quickly and easily.
We have a large selection of stages with roof systems for a big shows and small events, farms for various purposes (rigging, ground-support, eventing, exhibitions and more), winches, stage podiums, steel structure elements, safety barriers, awnings and much more.
All equipment has European certificates of quality and conformity.
The location of the office and warehouse take place in Riga, Latvia. It is convenient for working in the Baltic States, Scandinavia, close to Ukraine, Poland, Belarus and other countries as well.
JSA Europe management is speaking English, Latvian, Russian, Ukrainian what makes communication with custumers easy and productive.
Our team is mobile and we have extensive experience in international projects. The staff is polite and always ready to provide the necessary assistance.
We carry out a full cycle of work – from negotiations, engineering calculations and project development to project implementation – engaged by one organization.
We can make the coordination with a technical support contractors (light, sound, video, energy, scenery, etc.) and manage all production work.
Our full production service makes the customer feel safe and secure.
We are working 24/7.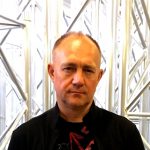 Managing Director
Founder and owner JSA Stage Company since 1996.
Mastermind and creator of staging service in Russia.
AWARDS
In 2015 Community of professionals by IQ Magazine included JSA in the list of the world's Top 100 production companies as a company in the Top 10 at category of Staging & Rigging.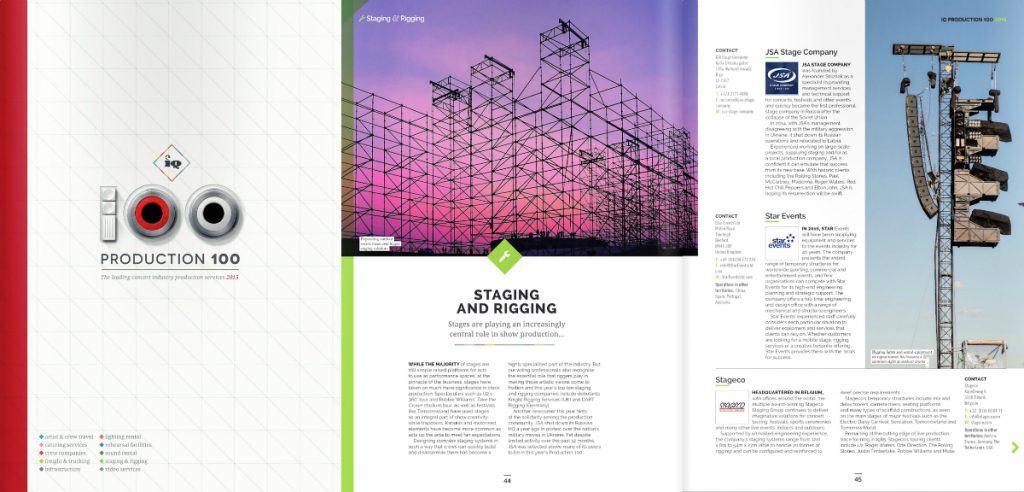 PARTNERS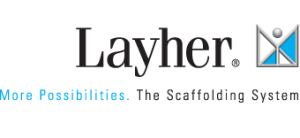 Layher (Germany) – Wilhelm Layher GmbH & Co. KG is the largest manufacturer of scaffolding modules in Europe and produces innovative and smart scaffolding systems.
JSA Stage Company was a longtime partner (since 1998) with German company Layher – manufacturer of scaffolding and event systems.
JSA Stage Company did a lot of work for many years to popularize the products and business philosophy of the Layher among customers and market participants.
In February, 2017 JSA Europe, as a business successor, has established the contacts with Layher Baltic management for further cooperation.