On November 7, 2001, the Swedish super duo Roxette concert was held at the Sports Complex Olimpiyskiy (capacity 15 0000) in Moscow. This event was part of the European Tour in support of their new album Room Service. The organizer of this concert was the team JSA Promoter in collaboration with Thomas Johansson / EMA TELSTAR.
Marie Fredriksson and Per Gessle flew in a private jet in Moscow on the morning of the concert day. At the time of their arrival at Sheremetyevo Airport, it turned out that Per had forgotten his passport at home. The team JSA had a good relationship with the Swedish embassy in Russia. They reported this funny case to the ambassador and he was able to quickly arrive at the airport. And there, on the spot, a new passport was issued for Per to enter the country. Everything worked out well and the duo managed to attend the planned press conference with media in the Olimpiysky.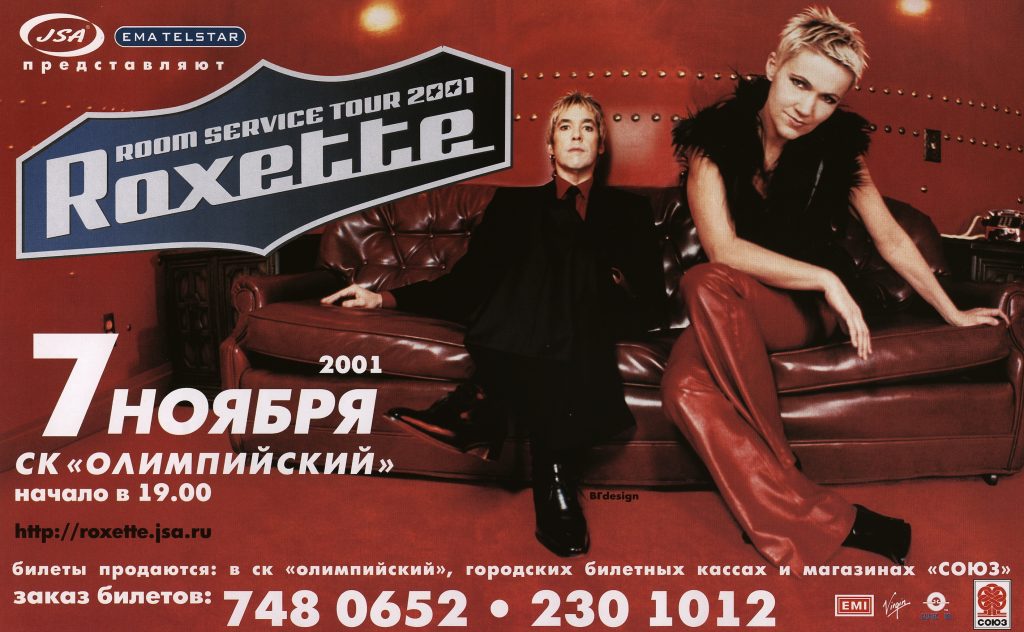 Despite a six-year break on tour, the musicians performed an excellent set of quality pop music. The show was a success and a good drive, the audience heard new songs from the last album and all the powerful hits of the duet. After the main encore program, the musicians performed five additional songs.
Marie Fredriksson, Per Gessle and Thomas Johansson were pleased with the good work of the team JSA Promoter to conduct and produce this Roxette concert.
Musical News Agency – InterMedia: ROXETTE Present their new album in Moscow
Internet Music News portal ZVUKI.RU: ROXETTE The Swedes will give us Crash! Boom! Bang!
Newspaper "Kommersant" №205 / 09.11.2001: Revolutionary holiday was held under Roxette
Information Internet Portal LENTA.RU: Roxette "will be served" by Muscovites on November 7
News internet portal UTRO.RU: Roxette is back in Moscow!
Rock Music News Portal – Dark City: Roxette – Room Service Tour 2001
Internet Portal of Musical News MP3s.RU: Roxette will have a demonstration at the Olimpiysky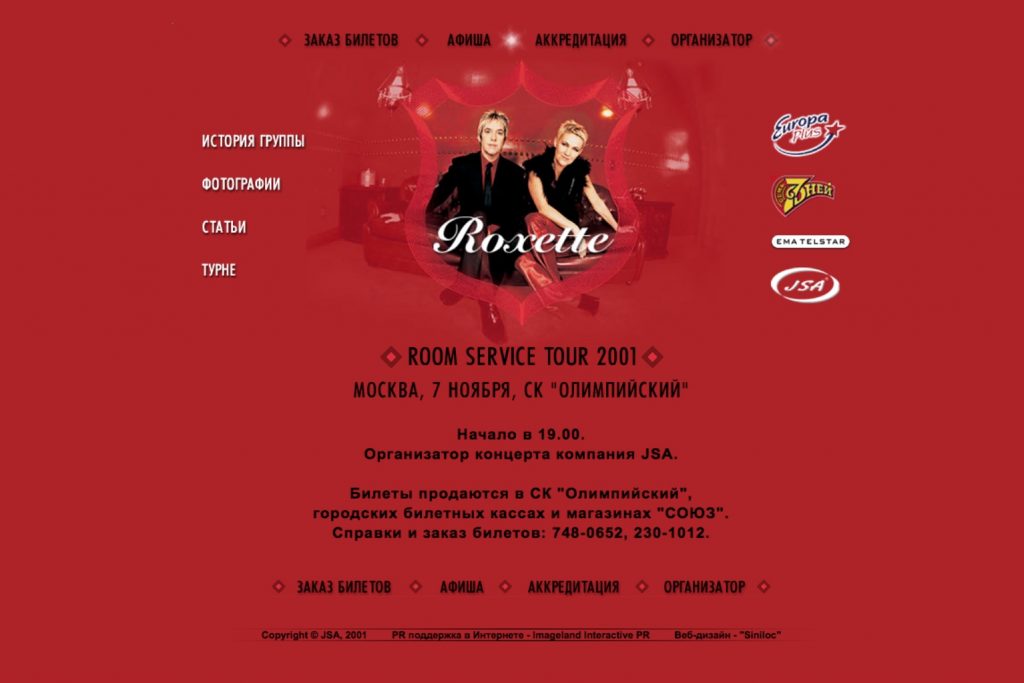 VERSION IN RUSSIAN LANGUAGE
ROXETTE ПРЕДОСТАВИЛИ ROOM SERVICE
КОНЦЕРТ ШВЕДСКОГО ДУЭТА В МОСКВЕ
© All photos and promo stuff are copyright by JSA Stage Company.