On September 9, 2000, a concert "BROTHER-2 / LIVE" took place in the Olympic sports complex in Moscow. JSA installed a large stage structure with a total length of 60 meters. The stage decoration was made from Layher Allround Scaffolding and Layher Protect System elements. The idea and concept of the set design for the show was proposed by Alexander Strizhak.
Quote from the official website about the film:
"… The scenery for the show is made by the company of stage equipment and show technologies JSA ((previously worked for – concerts of The Rolling Stones and Alice Cooper in Moscow, as well as the XXI and XXII Moscow film festivals). During the concert, the stage of the" Olympic "will turn into a small Chicago – with skyscrapers, slums and huge advertising screens, which will show fragments of the film "Brother-2 ….."
Before the show "BRAT-2 / LIVE"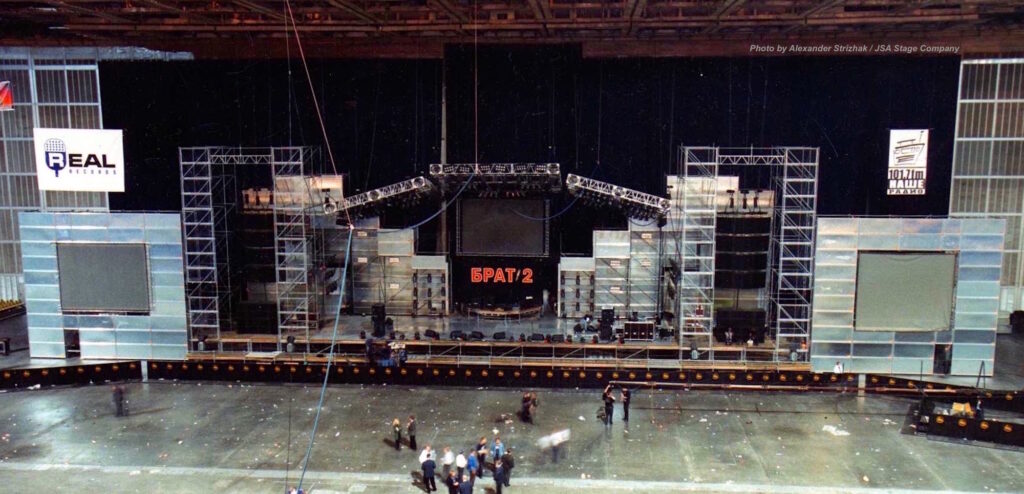 During the show "BRAT-2 / LIVE"
After the show "BRAT-2 / LIVE"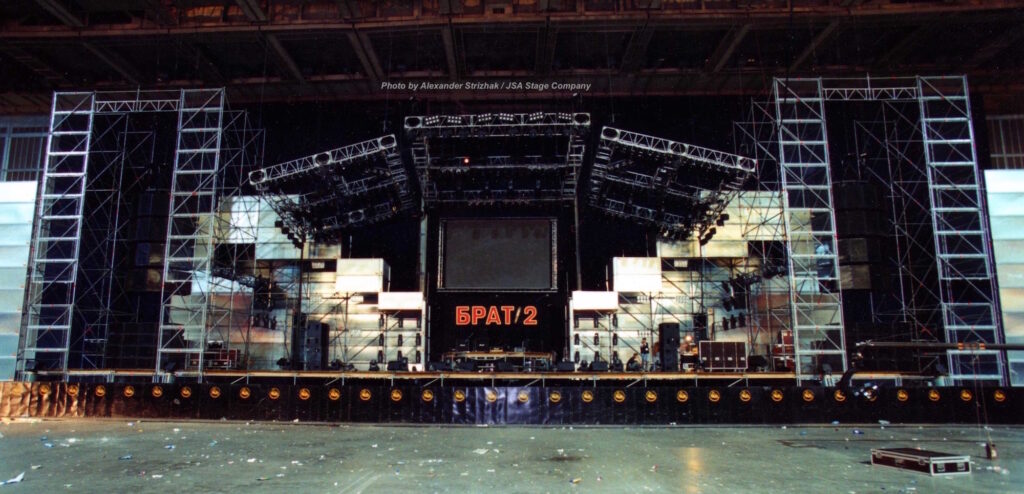 The concert was organized by agency Real Records as promo (post-production) action for Alexey Balabanov's film "BROTHER-2". The film's summer screenings have been very successful since its premiere on May 11, 2000.
Lighting support – Lightmaster / Sound support – Live Sound Agency / Staging and stage design – JSA Stage Company.
The rock musicians who took part in the recording of the soundtrack for this film gave a performance on the "city" stage. Especially for this event, Real Records released a CD with tracks from the film – "BRAT-2 / ZA KADROM" ("BROTHER-2 / BACKGROUND"), which sold out quickly and with great success. After that, the second edition of this CD was immediately published on the cover of which the JSA logo was already put with the inscription:
"We express our gratitude to the JSA company and personally to Alexander Strizhak for help and support in holding the concert" Brother-2 live in Olimpiyskiy".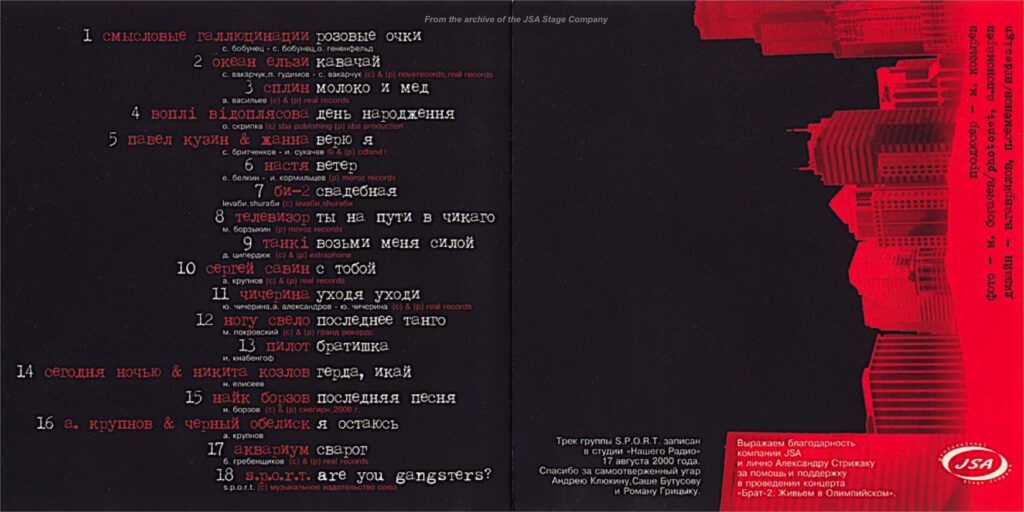 There are different opinions about the film and its content. Our post is about stage constructions and live music. About high-quality and creative work of the JSA team for this show. Below are unique photos from the concert "Brother-2 / Live" from the archive of the JSA company.
P.S. By the way, one of the JSA stagers, a little while later after this concert, got a job in the film crew of Sergei Bodrov (starring actor in the film) and, as we know, this team of film crew died in the Karmadon Gorge during an avalanche on September 20, 2002. R.I.P.