In the winter season 2007-2008, for the first time, a public ice skating rink was opened on Palace Square in St. Petersburg in the heart of the Northern Capital. The project was organized by the Bosco di Ciliegi Group of Companies with the support of the City Administration of St. Petersburg.
At that time, it became the largest complex in Russia and Europe. The total area of the ice rink was more than 5 thousand square meters, which was almost one and a half times larger than the Bolshoi Skating Rink, which was open last and this season on Red Square in Moscow.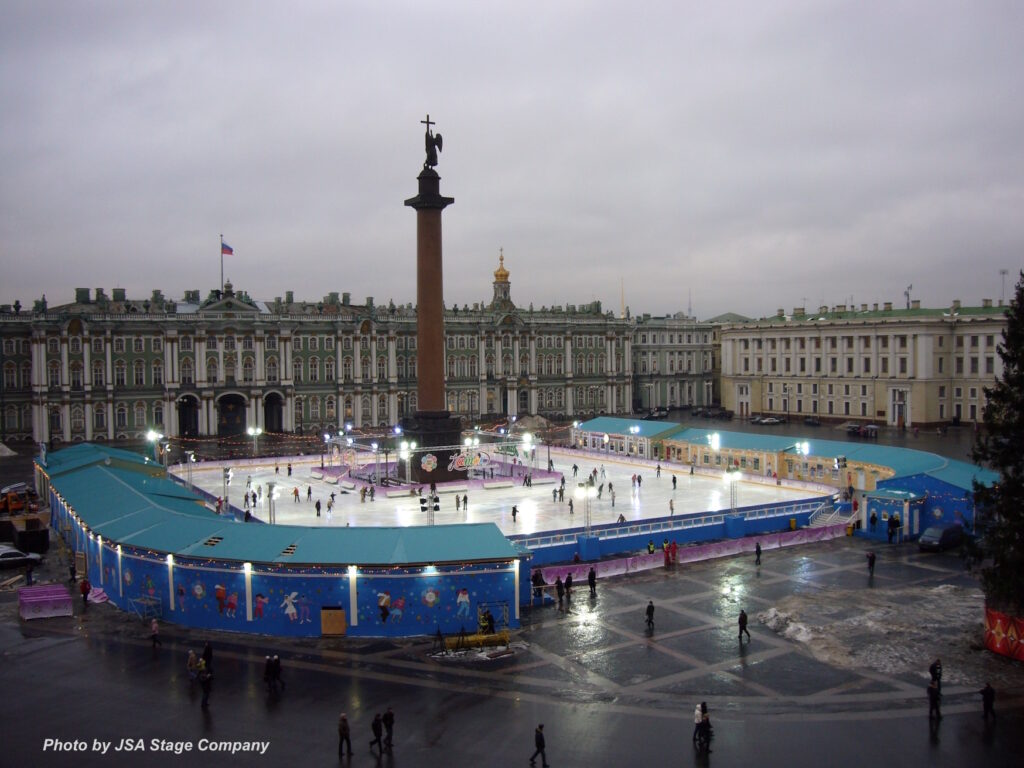 The main technical contractor was JSA, who installed a Layher Allround Scaffolding main platform structure to level the surface. In addition, JSA has installed Prolyte truss towers for lighting and sound equipment.
It was a unique building from all points of view. The winter skating rink was fully integrated into the ensemble of Palace Square, taking into account all measures related to ensuring the safety of installation work and preserving the surface of the square. The platform structure was neatly built around one of the important architectural landmarks of the city's historic site on the Neva – the Alexander Column, which stands in the center of Palace Square.
Up to 700 people could skate at the rink at the same time, and the daily number of visitors was up to 5 thousand people. JSA SPb was also a contractor for organizing technical support for special events that took place on the territory of the temporary complex "Skating rink on Palace Square" throughout the entire season of its operation. Such as the Grand Opening and Closing of the Ice Rink, New Year and Christmas celebrations, Demonstration performances of figure skaters, International Friendly Hockey Games, as well as shooting special television programs, including the popular project – "Ice Age" and Presentation of the 2014 Olympic Games in Sochi and many others interesting events.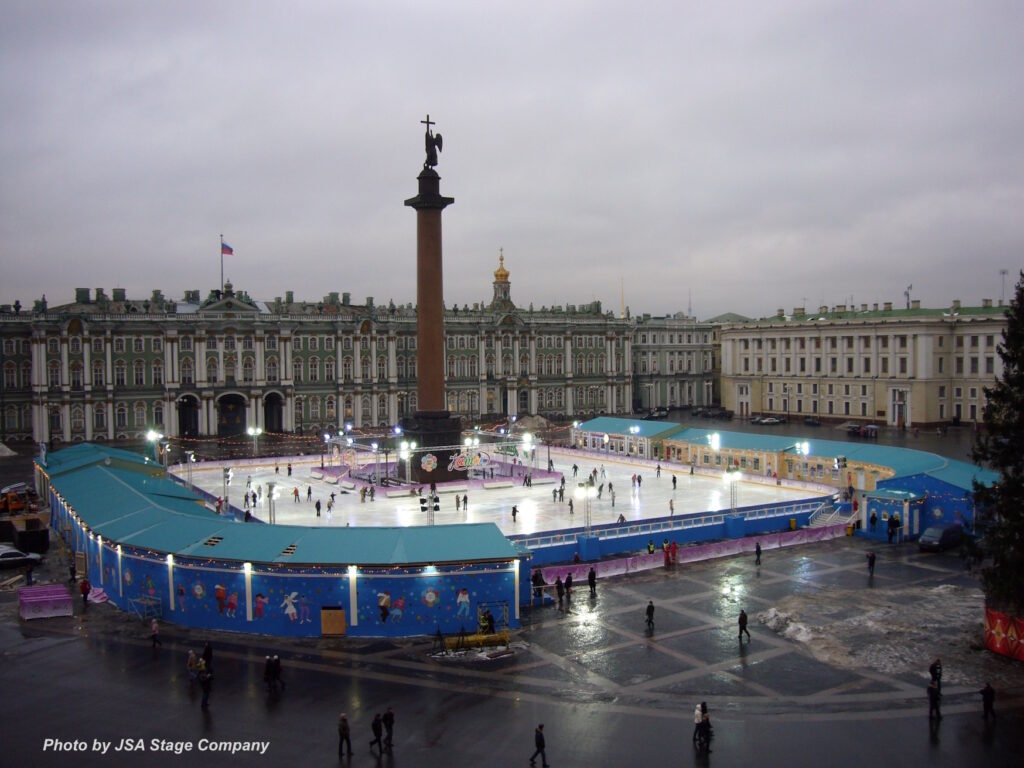 ВЕРСИЯ НА РУССКОМ ЯЗЫКЕ:
ВПЕРВЫЕ НА ДВОРЦОВОЙ ПЛОЩАДИ
ЛЕДОВЫЙ КАТОК В САНКТ ПЕТЕРБУРГЕ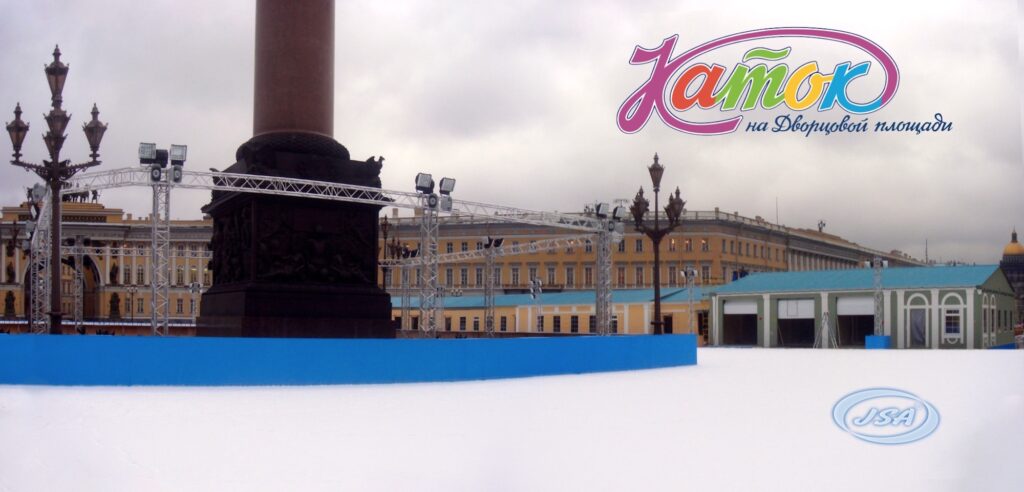 At the same time with the large skating rink on Palace Square in St.
Petersburg, JSA installed the structures for the skating rink on Red Square in Moscow for the second time.
SHOWMASTER Magazine / 04.2007 (51): JSA BUILD ICE RINKS IN MOSCOW AND SAINT PETERSBURG
SKATING ON THE RED SQUARE IN MOSCOW
SECOND ICE SEASON NEAR THE KREMLIN
FOR THE FIRST TIME AT THE RED SQUARE
ICE RINK BY GUM IN CENTER OF MOSCOW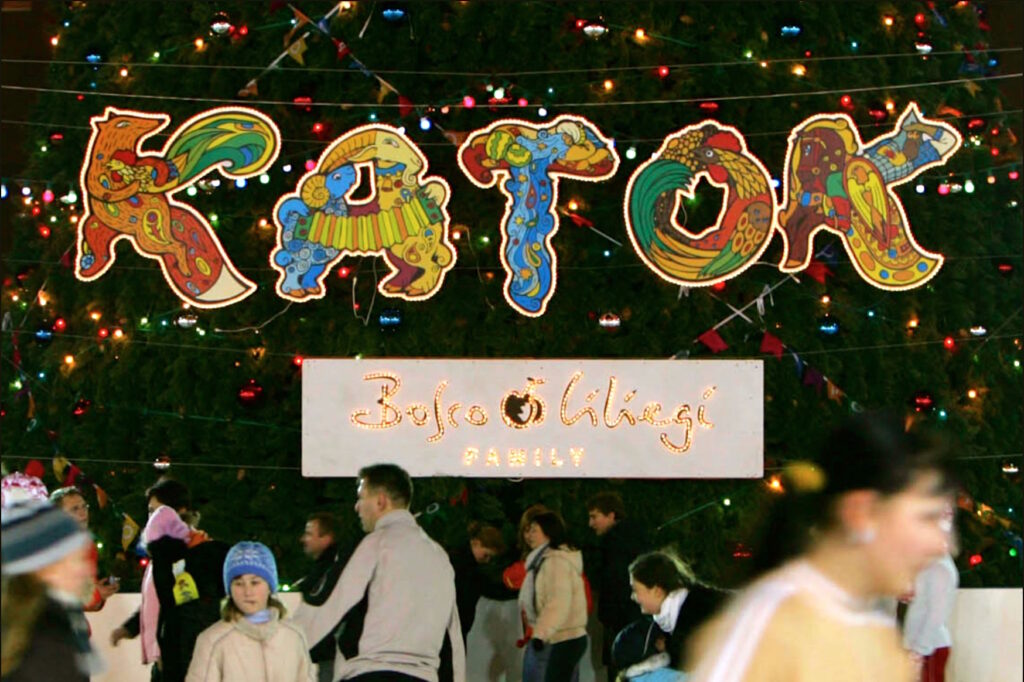 © All photos are the copyright of JSA Stage Company.