On November 25, 2003, composer and musician Yann Tiersen performed at the Gorky Moscow Art Academic Theater. That was the second visit of the author of music, already beloved by the Moscow public, to the popular films "Amelie" (the full name is "The Unbelievable Fate of Amelie Pulen" with Audrey Tautou in the title role) and "Goodbye Lenin!" (one of the roles was played by the Russian actress Chulpan Khamatova). The concert was organized by the JSA Promoter team.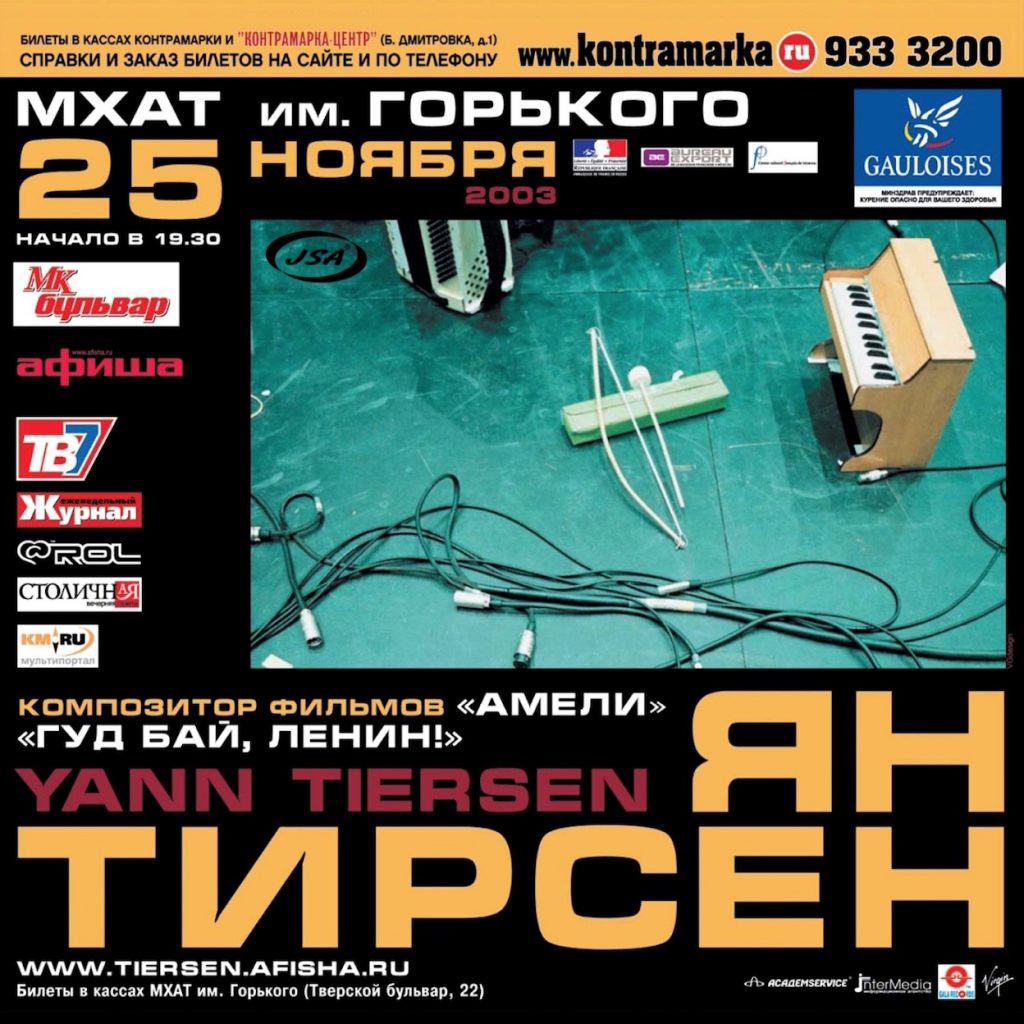 French (Breton) multi-instrumentalist, minimalist composer, and singer Yann Tiersen became a relevant and desired artist in the Russian capital. The performance was a success: on the stage, there were many different instruments from classical to unusual. And at the same time, three musicians created a sound acoustic palette bewitching the audience. Melodies from the cult films "Amelie" and "Goodbye Lenin!" and compositions from the 2001 album "Absent" (L'Absent) sounded from the stage. At the end of the musical performance, fans did not want to let the musicians off the stage, Yann Tiersen returned to the encore and played the last song on the tiny toy baby piano, kneeling. A live music show in the Moscow theater confirmed the name of Yann Tiersen's live album, released a year earlier, "C'était ici" – This was here!
OFFICIAL PRESS RELEASE OF JSA COMPANY: YANN TIERSEN AGAIN IN MOSCOW!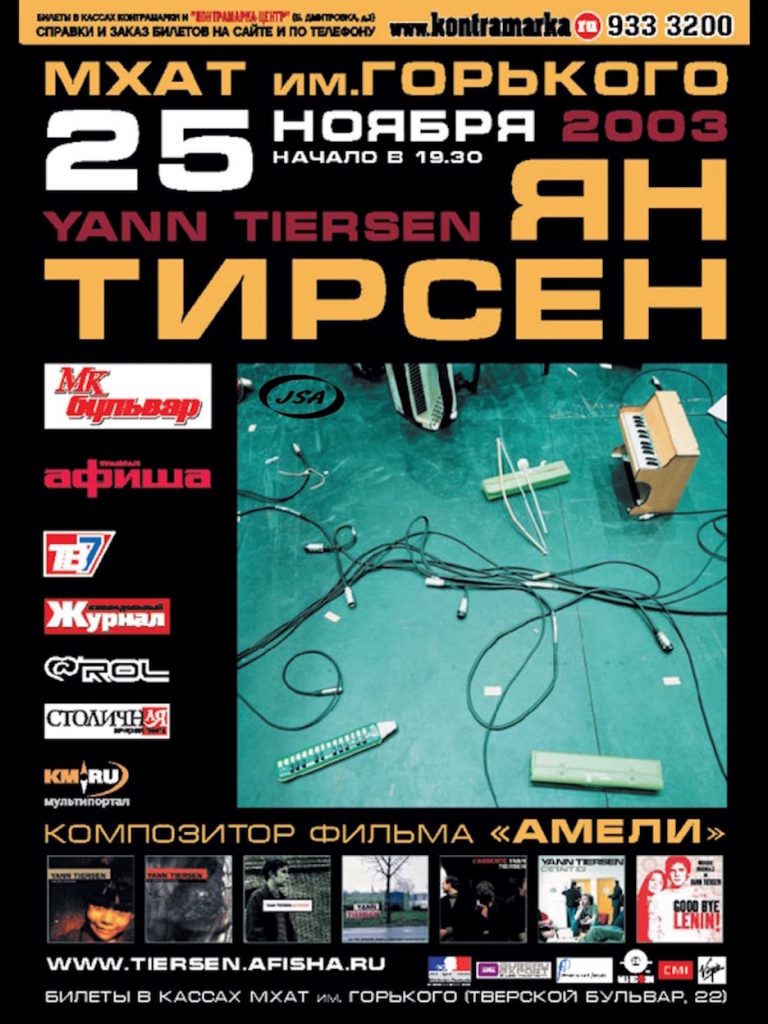 Musical News Agency – InterMedia : Live versions of melodies from "AMELIE" and "GOOD BYE, LENIN" at the Moscow Art Theater
Internet Portal of Musical News ZVUKI.RU: Yann Tiersen – an hour and a half of film's music on the stage of the theater.
Information Internet Portal NEWS.ru.com: Author of music for "Amelie" will perform the only concert in Moscow
Information Internet Portal GRANI.RU: Yann Tiersen will perform in Moscow
News Internet Portal UTRO.RU:
– "Lone Sailor" will play at the Moscow Art Theater
– The Little Prince of French Minimalism
The newspaper "Kommersant" №217 / 27.11.2003: His farewell goodbye / Yann Tiersen performed in Moscow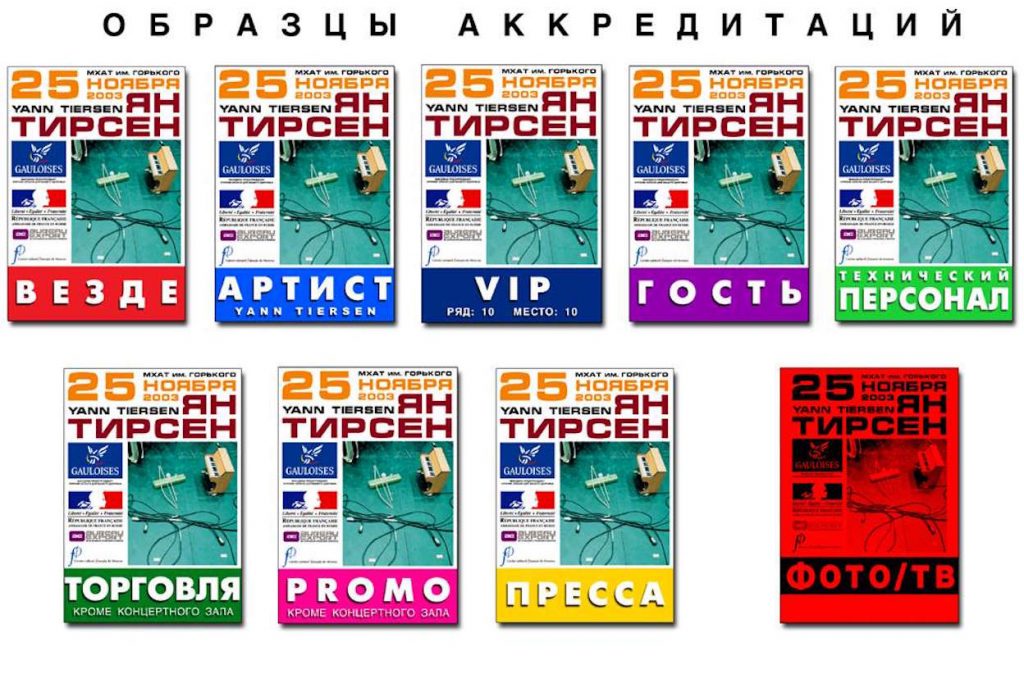 VERSION IN ENGLISH LANGUAGE:
КОМПОЗИТОР ЯН ТИРСЕН СНОВА В МОСКВЕ
AMELIE, GOODBYE LENIN, L'ABSENTE И ДРУГОЕ
© All photos and promo stuff are the copyright of JSA Stage Company.