One month ago, on October 26, a unique event for the production and staging sector took place at the SIXTY82. The premiere of the innovative modular aluminum truss system ALPHA82 – MODULAR TRUSS SYSTEM took place in the showroom of a plant in Drachten.
A spectacular show was shown to the guests of the presentation, and the leading engineers, including Mark Hendrix, a well-known specialist in this type of product in our industry, presented from the stage the technical details and capabilities of the latest product for the event industry.
We present you with additional information about the new product from SIXTY82 and some technical data on the ALPHA82 truss system.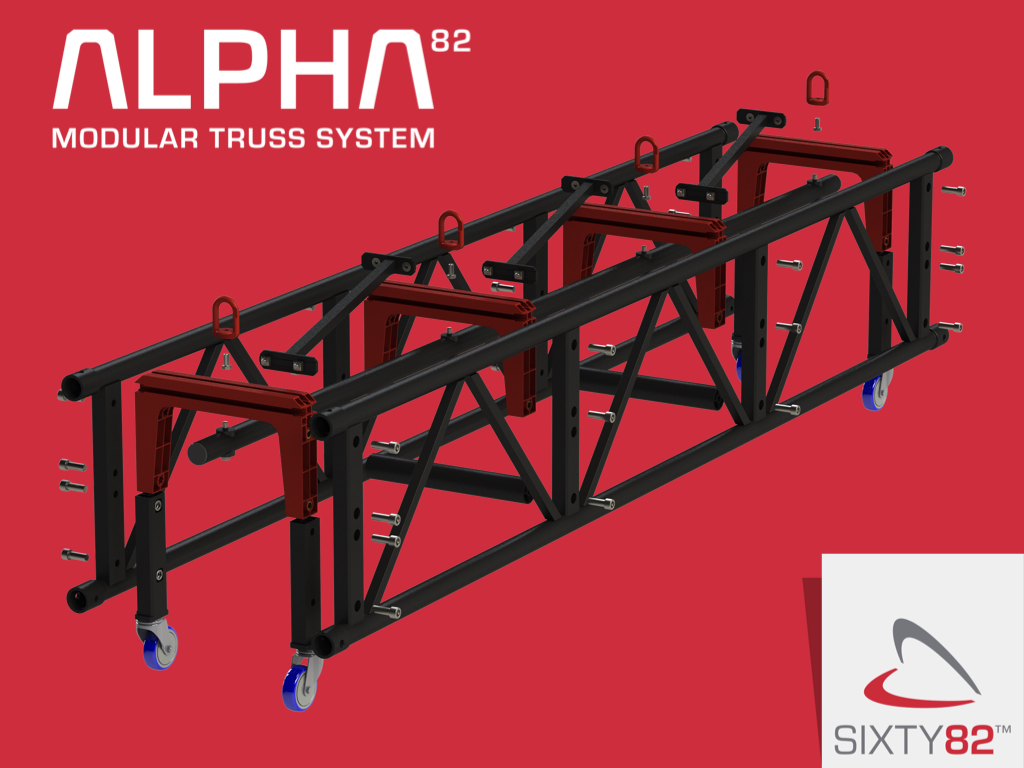 MODULAR TRUSS SYSTEM – ALPHA82
Fully modular and super variable truss system
Easily connects to conventional trusses from SIXTY82 – L52S and XL101R
The assembly uses the same basic elements for limitless possibilities
There is always the possibility of reconfiguring the farms for your individual projects.
The system is easy to maintain and install
Needs less storage space in your warehouse
Now you will have less shipping costs
BASIC STRUCTURES FOR TRUSS ALPHA82
The ALPHA82 modular truss is available in two standard truss heights – L52 and XL101. Suitable for permanent use and easily connects to standard SIXTY82 trusses of the same size.
These trusses are available in four lengths:
50 cm / 100 cm / 200 cm / 300 cm
CONNECTING ELEMENTS OF MODULAR TRUSS ALPHA82
Basic truss flat structure connectors are available in two versions: right-angled and trapezoidal (stackable). Special sizes and cut-outs are available on request. The assembly diagram of the ALPHA82 system is shown below in the picture.
ASSEMBLY OF MODULAR TRUSSES SYSTEM – ALPHA82
Simply bolted / Easy assembly by bolting the elements
Threaded inserts are designed for multiple use
Bolt heads flush with outside profile
CNC machined ALPHA connectors optionally available in different sizes and cut-outs
EXAMPLES OF POSSIBLE CONNECTIONS FOR ALPHA82 MODULES
INTEGRATED BOLT CHANNELS OF ALPHA82
The slotted profile of the ALPHA connectors is made on all sides with the channels of the grooves for the installation of bolts and nuts M12 to connect accessories to the truss, which gives you more options and possibilities for use.
ADDITIONAL ACCESSORIES FOR ALPHA82 MODULAR FARM
ALPHA Horizontal Diagonal
ALPHA Vertical Connector
ALPHA Cross Tube 60 mm
ALPHA Wheel Bracket
ALPHA Middle Tube
ALPHA I-Beam
POSSIBILITIES OF APPLICATION ALPHA82
Hanging Truss / Prerigging
Stackable farm / economical storage
Suspension of LED screens
Integrated farm on wheels
Possibility of integrating chain hoists
Integrated paths for curtain systems
Integration of decoration elements
Integrated suspension rigging points
Create horizontal mounting points
Create vertical mounting points
Using trusses as cable trays
Top Catwalk Truss
Can be used separately flat trusses
UNIQUE FEATURES OF THE TRUSS SYSTEM ALPHA82
The most versatile aluminum truss system in the world
The ability to configure farms for individual projects
High return on your investment
Can be connected and used with standard trusses of SIXTY82 – L52S and XL101R
Similar loading capacity than L52S and XL101R truss can be achieved
Reducing the volume and cost of transport costs up to 75% / including delivery from the factory to the customer
Large variety of applications to fulfill your personal needs
ALPHA82 Modular Truss System holds a Worldwide Patent
JSA Stage Company is the official distributor and partner for the promotion and sale of SIXTY82 products in Ukraine and Latvia.
Email: sixty82@jsa-stage.com
Office Phone: +380443614848 ??
Office Phone: +37122774848 ??
We will be glad to cooperate with you!
For more information about the modular system of ALPHA82 trusses, see the official page of this product on the SIXTY82 website:
ALPHA82 – PROUDLY MADE & DESIGNED BY CRAFTSMAN IN EUROPE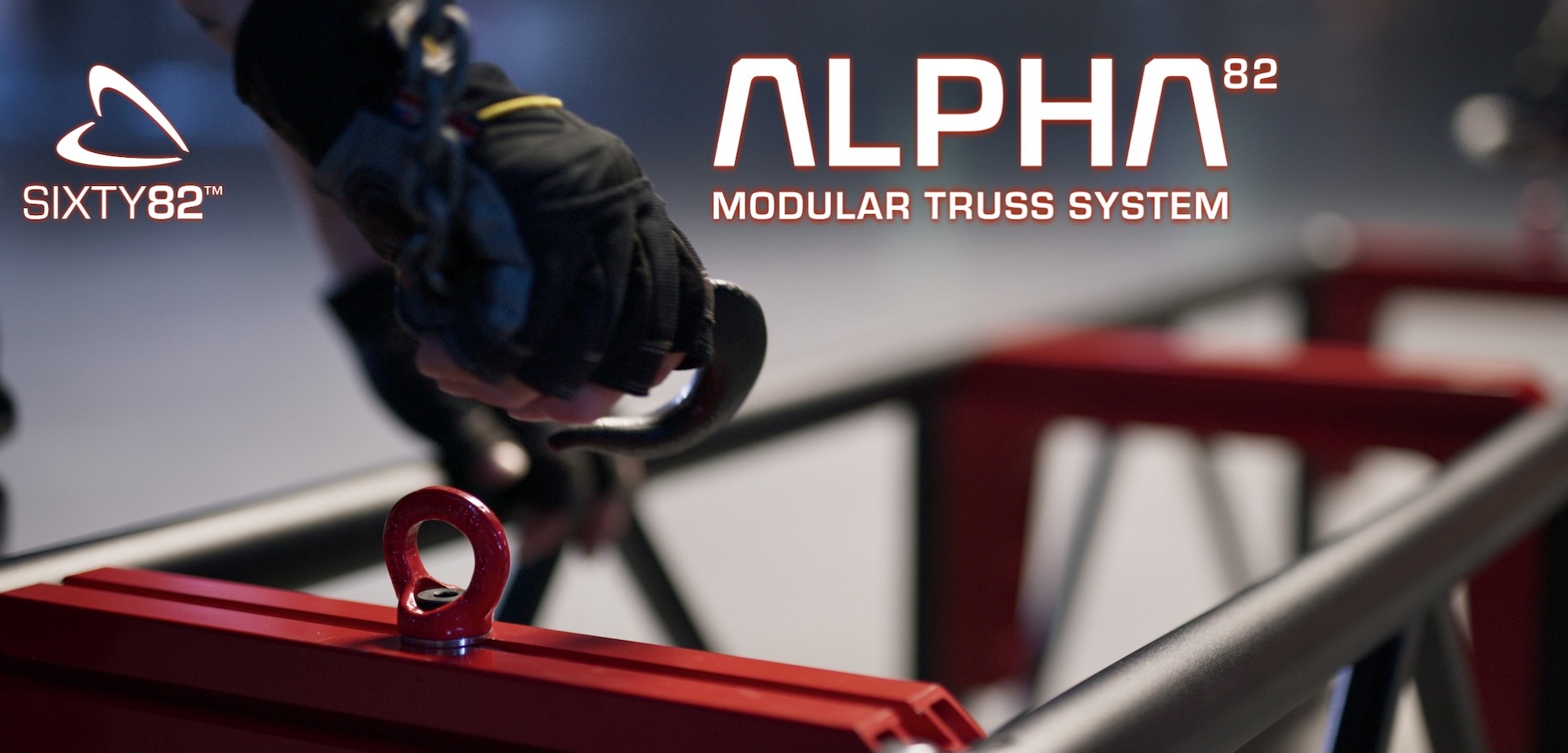 Версия на русском языке: МОДУЛЬНАЯ СИСТЕМА ФЕРМ — ALPHA82. РЕВОЛЮЦИОННАЯ ИННОВАЦИЯ ОТ SIXTY82