Sad news: Alexey Aleskovsky, a good and kind person and a significant figure in our professional world, has left this world. Many people know that he has created in Russia the Association of Companies for the Technical Support of Events – "AKTOM" and the Club of Show Technologies Distributors / Клуб прокатчиков шоу-технологий.
But for JSA, he is remembered by the fact that he was with us at the birth of the company and provided great support in the formation of a young business structure in the second half of the 90s.
Therefore, this loss is a deep sadness for us. The name of Alexey Aleskovsky will always be in the history of the company and we will remember his smile and calm character …
Alexander Strizhak said about his friend:
"Alexey played a big positive role in my life, I will always remember him with gratitude.
It was in the second half of the 90s and early 2000s, as they say – "at the beginning of glorious deeds." Alexey was directly involved in the birth of my business project – JSA Stage Company. With his business and moral support, I managed to take my first independent steps in business. He easily and reasonably accepted my concept of a company for full production management of live music events as a separate direction, and we began cooperation for the benefit of both of us. Then, when each of us "got on his feet", we gently passed the stage of entering independent paths of movement. I took additionally a direction to staging, and Alexet created its own sound and light company.
Remembering that period and knowing his ability to make a reasonable compromise, I understand how he could unite the "non-united" and become a good leader of the Association (AKTOM), where he was an efficient Chairman of the Board.
So, goodbye Alexey and rest in peace …….."
Below you can find links to his media interviews:
Magazine Show Master 2/2015/81: 30 years and many plans! / 30 лет и много планов!
PDF VERSION OF MAGAZINE SHOW MASTER
Internet Edition of the Magazine EVENT.RU – What is lacking in domestic technical production? Interview with Alexey Aleskovsky / Чего не хватает отечественному техническому продакшену? Интервью с Алексеем Алесковским
"I'm not a businessman by nature." Interview with Alexey Aleskovsky / «По своей натуре я не бизнесмен». Интервью с Алексеем Алесковским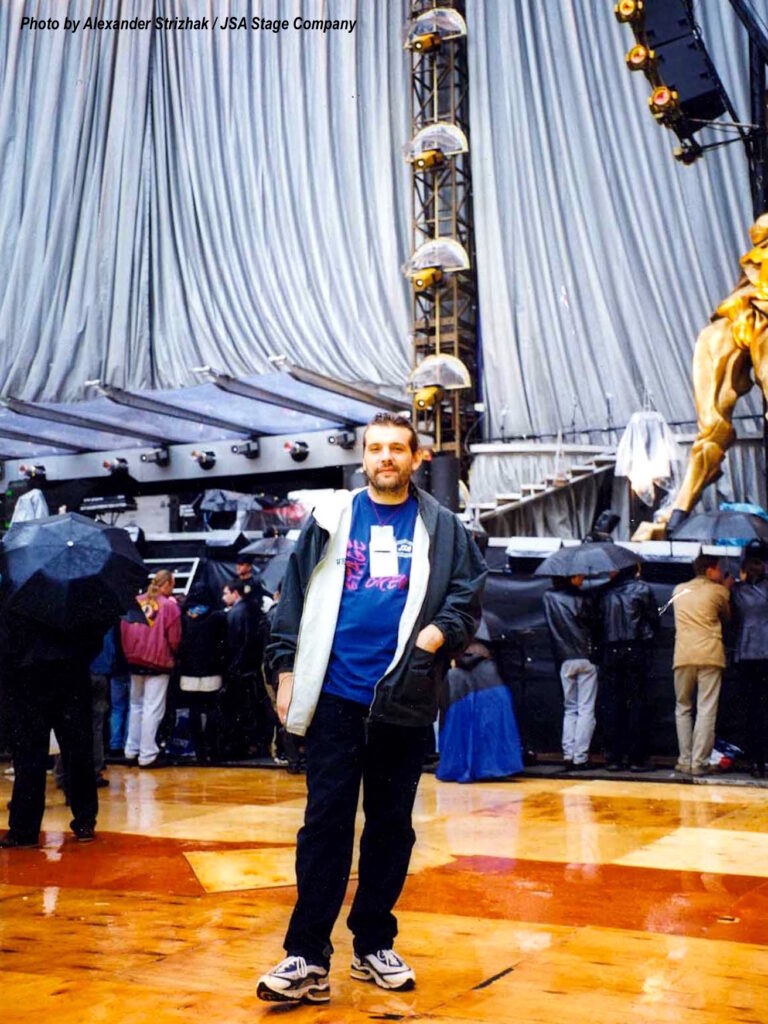 Alexey at the concert The Rolling Stones in Moscow Luzhniki / 11.08.1998
Версия на русском языке: ПАМЯТИ АЛЕКСЕЯ АЛЕСКОВСКОГО. ОН ПОКИНУЛ НАС 29 ОКТЯБРЯ 2020 ГОДА