On November 20, at the initiative of JSA, a new business meeting was held in the office at the Layher plant with Georg Layher. It was dedicated to a new interesting project FLEXODROM based on the use of universal Layher products.
The team from JSA / FLEXODROM was represented by Asteris Koutoulas, the mastermind behind the creation of the project and long-time business friend of JSA, Maria Strizhak as a translator, and Alexander Strizhak – the creator of the idea of using Layher designs for this project.
The meeting was held in a friendly atmosphere – this year marks 20 years of partnership between Layher and JSA. The presentation of the FLEXODROM project was successful and aroused keen interest among George Layer. In his opinion, this project may become a good additional direction in promoting the plant's products. Both parties agreed on mutually beneficial cooperation and project support.
After the meeting, the JSA / FLEXODROM delegation, accompanied by Victor Klein (international sales manager), visited the large showroom of the plant's products, where they familiarized themselves with the exposition and the new products of Layher.
JSA, as a long-standing partner in the promotion and use of Layher products, has created a new project based on the modular systems Layher Allround Scaffolding, Layher Protective, and Layher Event.
JSA would like to thank our business friends for their help in creating the drawings and presentations for FLEXODROM: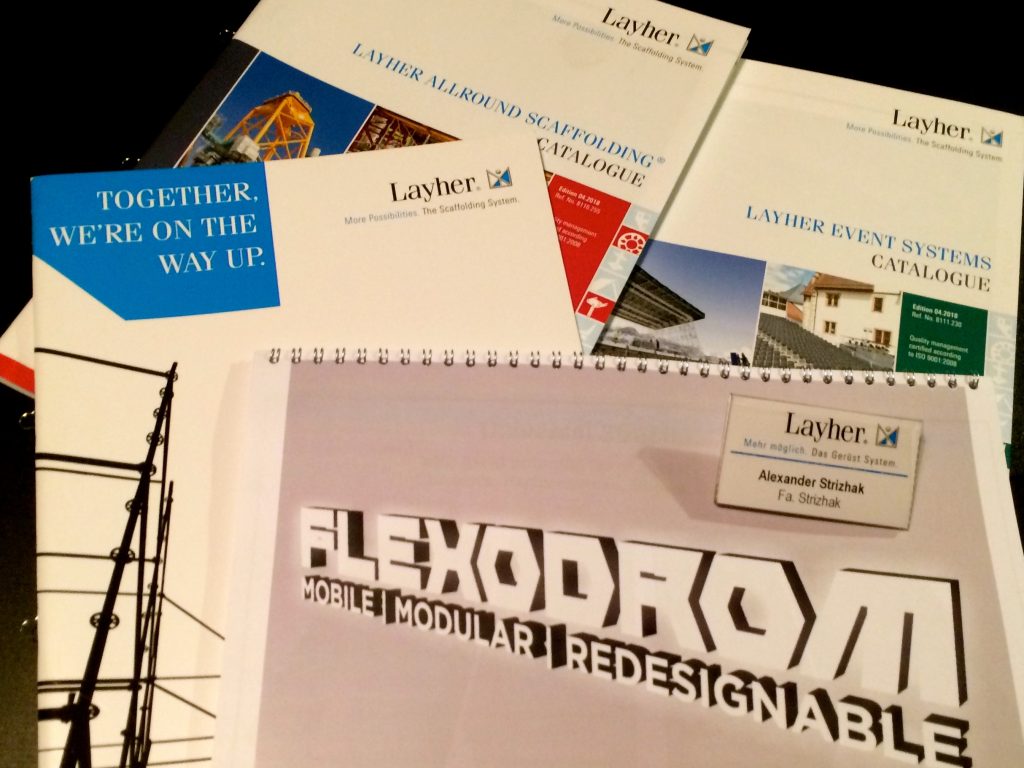 Версия на русском языке: ДЕЛОВАЯ ВСТРЕЧА В LAYHER. НОВЫЙ ПРОЕКТ FLEXODROM
© All photos are copyrighted by JSA Stage Company.