ATTENTION! We are pleased to announce that since November 11, 2021, JSA has had a new working office (headquarters), which is located on the Event Factory Sloka territory in Jurmala (Latvia). JSA Europe Ltd also changed its official legal address. Now you can send us correspondence and parcels to the postal address: Sloka 7147, Jurmala, Latvia, LV-2011.
In addition to workplaces and infrastructure, the company's office has a show corner with samples of products from Layher factories and SIXTY82. Also, on the street, near the building, a stage structure has been installed as an experimental sample to demonstrate the possibilities in staging and, at the same time, it is a real stage for holding local concert events (of course, subject to security measures during the quarantine period).
We will always be glad to see you – our clients, friends, and partners on a visit and for business meetings! Welcome!
We also inform you that we plan to open an official representative office in Ukraine and create a warehouse of stage structures and Layher scaffolding for operational sales and the rental sector next year.
Below you can read the text of the official statement of the JSA company about the change of the physical and legal address:
Dear All!
We are pleased to inform you that despite a difficult period for our sector of business due to restrictions on holding live concerts and events because of the coronavirus crisis, our company continues its work and is looking for new solutions for activities and remains useful for our clients, partners, and friends.
One of the important steps was the relocation of the office (headquarters) to a new location for more efficient operation, cost savings, and the ability to operate the office in real mode, and not in a destructive online format (this is our opinion). This event took place officially on November 09, 2021.
We found additional opportunities for our business development in the new location – in the area of "Event Factory Sloka" / the name of the local project for a potential open-air venue in Jurmala (a resort town near Riga).
This change became useful for JSA Europe Stage Company, and we are sure it will bring many additional bonuses soon. Especially now, when the situation with "COVID" ceases to be relevant and the revival of all business processes begins.
Our new legal and business address:
SLOKA 7147, JURMALA, LATVIA, LV-2011 EMAIL: OFFICE@JSA-STAGE.COMPANY OFFICE PHONE IN LATVIA: +371 22 77 48 48 OFFICE PHONE IN UKRAINE: +380 44 361 48 48
We are always glad to cooperate with you!
Best regards, your team
from JSA Europe / Stage Company
You can view and download the PDF version of the Official Statement of JSA EUROPE here:
ANNOUNCEMENT / IMPORTANT INFORMATION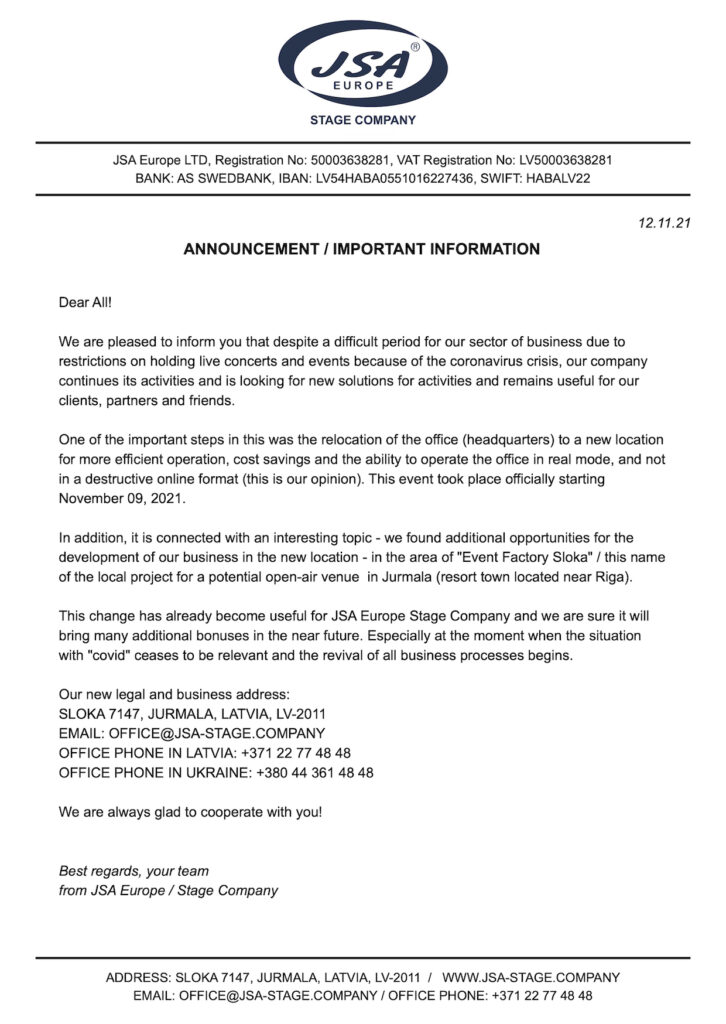 Версия на русском языке: НОВЫЙ ОФИС КОМПАНИИ JSA EUROPE. СЛЕДУЮЩИЙ ШАГ РАЗВИТИЯ БИЗНЕСА