On January 9, 2005, the World Cup in snowboarding took place on the territory of the All-Russian Exhibition Center (referred to as VDNH in Soviet times) in Moscow. Especially for this event, JSA installed a ramp slope design (springboard) from the Layher Allround Scaffolding System elements. That was the second experience of the JSA team in constructing such structures in Russia. Before that, JSA installed a temporary ramp-slide structure for the first time in the country in 2002 on Vorobyovy Gory – NOKIA TOTALLY BOARD / BIG AIR 2002
The Steel Mountain (120 tons) was built on the central entrance alley of the exhibition center. The height of the launch pad was 30 meters, the length was about 80 meters, and the braking zone was 20 meters. At that time, only JSA could build such a structure, which had a large warehouse of necessary structures and was a sales partner for the products of the Layher plant in Russia.
Unfortunately, the weather was warm, and there was little snow. It was necessary to cover the track with snow cover sufficient for the competition. The promoter and managers of JSA found a solution for this task. As a result, everything was well – the athletes gave a good performance, and fans of this extreme sport enjoyed this unusual and exciting show in the city.
Special thanks to Dmitry Khazhainov for his work as a moderator between JSA and the customer of this event.
JSA has issued a special promo flyer (in Russian) about this event:
THE ORIGINAL TRAMPLIN (LAYHER SLIDE RAMP)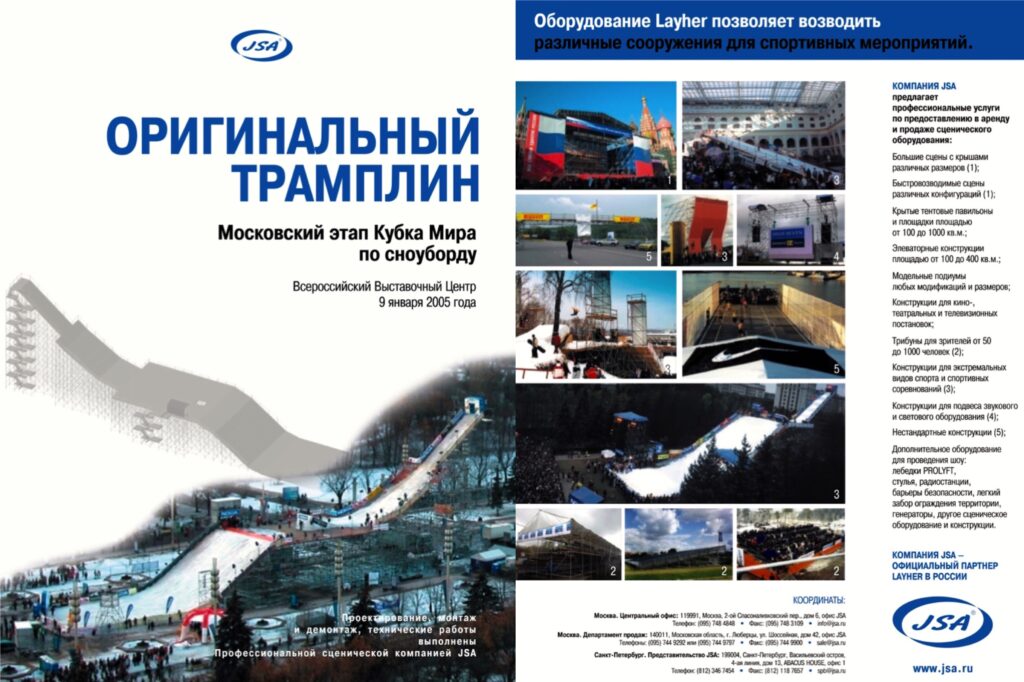 Версия на русском языке:
КУБОК МИРА NOKIA TOTALLY BOARD – 2005
ГОРА ДЛЯ СНОУБОРДА НА ВДНХ В МОСКВЕ

© All photos are the copyright of JSA Stage Company.